Discover how to engage tenants during – and after – COVID-19
Combining rigorous behavioural science with technology, Voicescape help social landlords to develop more effective customer engagement and sustainable tenancies. Over the past few weeks, we've been carrying out research with a group of industry leaders to understand how they have been approaching the coronavirus crisis, the impact they have felt and the strategy they are taking to ensure business continuity post-COVID.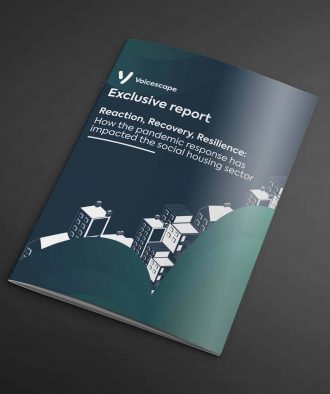 Why download our report?
How has your social housing association been impacted by coronavirus? What steps are you taking to reduce the long-term effects? How will you ensure your organisation is fool-proof going forward? We spoke to senior social housing professionals to find out what they are doing to recover and build resilience for the future in terms of:
Income collection and rent arrears
Universal Credit
Evictions
Vulnerable customers
Repairs and maintenance
Lettings
Customer engagement
Our exclusive report outlines what actions social housing providers need to be taking now. We'll also look at why and how the industry needs to evaluate its ways of working, customer data and the use of technology.
If you want to emerge from the crisis in good shape, simply complete the form on the right hand side to download your copy. And, don't forget to let us know what you think on social media using #VoicescapeThoughtLeaders.